Custom Metal Fabrication
Carbon steel
Stainless steel
Aluminum
Stud welding (CD)
Lathe
Milling
Metal brake
Pipe bending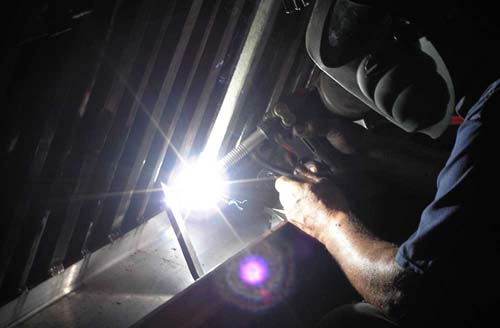 KCE Industries, welding & fabrication shop located northeast Wichita, Kansas specializes in metal fabrication of steel, stainless steel & aluminum. Including machine work, metal brake, pipe bending, plasma cutting, and providing laser cut parts, all at affordable pricing. Our focus is always directed upon providing dependable service, quality production and meeting the challenges of new products and/or services. Our services are tailored to individuals and other businesses in providing repairs, custom fabrication or products completed to their specifications. And all estimates are free
Stainless Steel Fabrication and Welding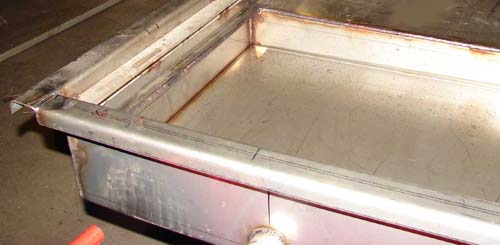 Working with stainless steel is a little different than working with normal or carbon steel. More attention is given to drilling stainless and when welded, the warping of stainless can become an issue in some applications. One of the differences between carbon and stainless steel is that stainless will contain a minimum of 12% Chromium and because of it's properties, is resistant to rust. Stainless can also be polished to a mirror image having that "chrome like" appearance. There are different alloys of steel and stainless steel with each having different properties meeting differing expectations.
Polished Stainless Steel Metal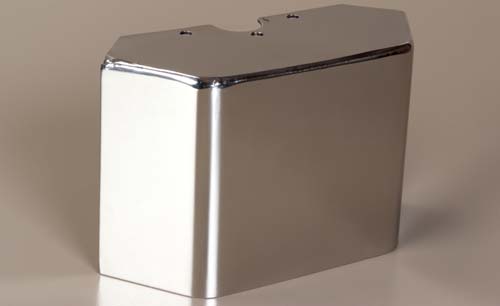 Aluminum Welding and Fabrication

Aluminum offers many advantages due to it's material properties. Aluminum is a lighter material than steel and does not rust, however corrosion can become an issue in certain corrosive environments. Most aluminum with "common use" alloys can be machined, formed, welded, and polished. Repairs to aluminum products is not the same but similar to the repairing process of steel. However, overheating aluminum is one of the main differences that internal alloy properties can be unknowingly damaged. Aluminum is a good choice for consideration, pending the desired outcome one is seeking.
Machine Polished Aluminum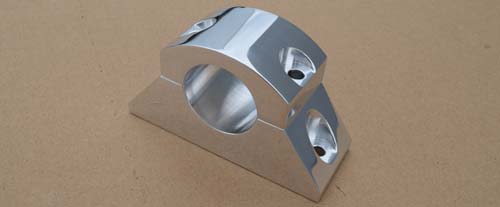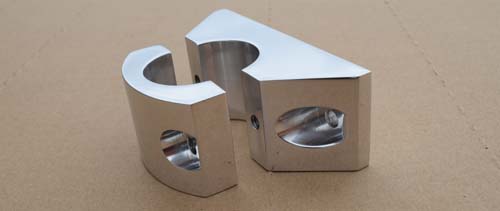 Stud Welding to Metal Base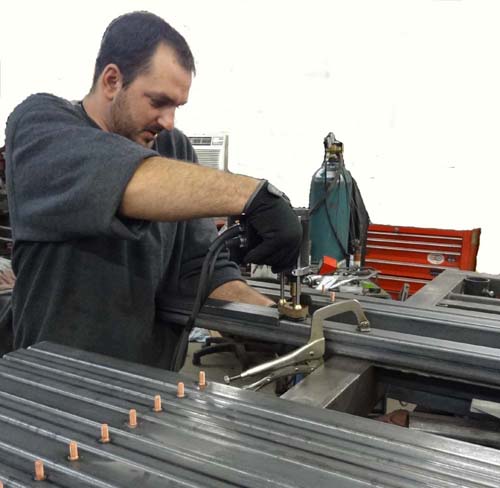 Stud welding is also included in our products and services. By definition, stud welding is a high-speed metal fastening process in which a metal fastener can be applied by a welding arc to another piece of metal. Stud welding is a complete one-step fastening system, using a wide variety of fasteners called weld studs. In this welding procedure, a fastener can be end-joined to other flat metal instantaneously for a high quality, high strength permanent bond. The way it works is this, the welding stud is placed, with a stud gun, in contact with the base metal. A weld arc is drawn which melts the welding stud base and an area of the flat metal for metal fastening. The welding stud is then forced into the melted area and held in place until the metals re-solidifies. This high quality fusion arc weld is completed in milliseconds. The type of method we use in our stud welding is called capacitor discharge stud welding, welding a variety of threaded studs up to 3/8" diameter.
Custom Plasma Cutting & Laser Cut Parts
Laser cutting for metals has the advantages over plasma cutting of being more precise however, most industrial lasers cannot cut through the greater metal thickness that plasma can. With laser or plasma, there is also a reduced chance of warping the material when being cut, as both cutting systems have a small heat-affected zone. Along with other traditional means of cutting, plasma cutting is very cost effective, however with some jobs or projects laser cutting is the primary choice in meeting both the need for accuracy and cost efficiency.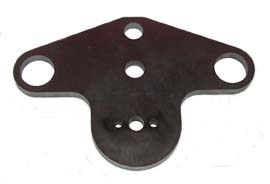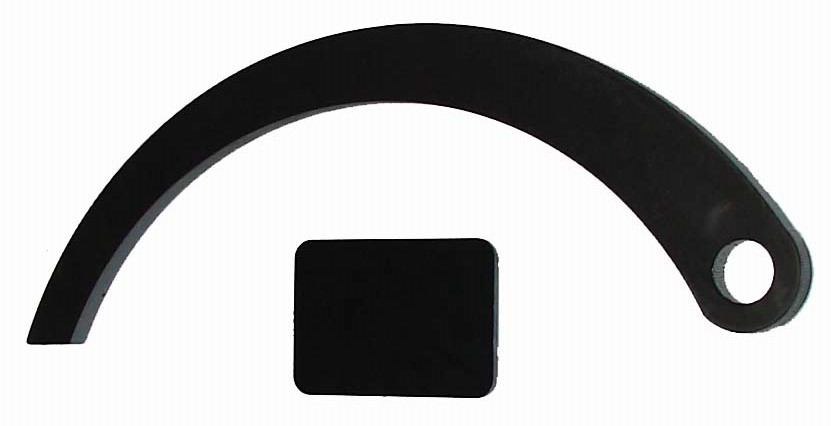 Prototype Fabrication

KCE Industries is a company that has experience in working with the differing types of metals in fabricating those "one-of-a-kind" prototype projects. Most times, good ideas are simply set aside and forgotten. But for those that have vision and are willing to take that vision to a higher level, taking that next step can become an adventurous and exciting journey into converting that idea into reality. That's when a working prototyping model becomes a necessity for testing and working out any glitches before patenting or setting up for production. Consider this, all good and successful products began as an idea!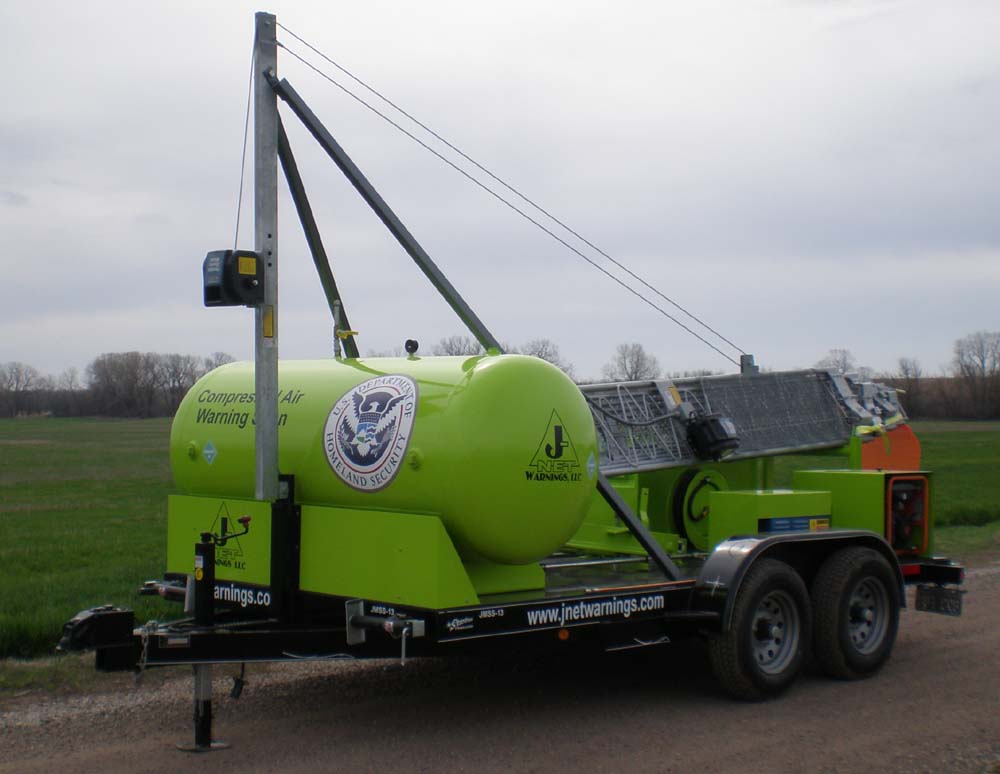 One of the unique qualities of the service that we offer is our confidence in the success we've had in our twenty plus years of serving our customers.