For over 20 years, KCE's Welding & Fabrication business has encountered many interesting jobs and projects in working with various metals such as steel, stainless steel, & aluminum. Other services included would be metal break, pipe bending & machine work. Experience is always a great qualifier that defines the confidence needed in getting things done. Pictured are a few examples of jobs, structures, products, and prototypes we've completed in meeting the need of our customers. For certain, all jobs, big or small, are welcomed! And estimates are free.
Steel Gantry Structure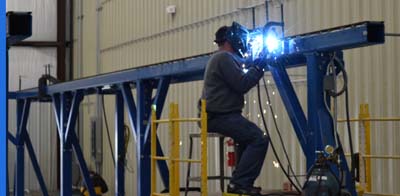 These gantry's are used to support the equipment that performs nondestructive inspections of composite and bonded structures. Pictured below is the long stainless steel drain pan that sets in the gantry which captures the water used in the inspection.

Decorative Security Bars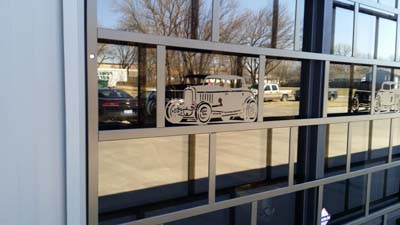 Security window bars for a business that did not want something that would take away from the appearance of his building. Since this was an automotive business, laser cut images of old cars was added value to these security bars. Also these security bars were powder coated to match the color of the building.
Custom Built Trailer
The custom built trailer was designed to make this CNC machine mobile, in being able to move from one location to another.
Decorative Steel Gate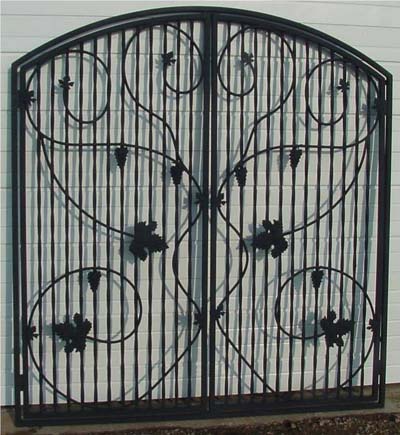 A number of these gate assemblies was built for a chain restaurant chain that had built in wine racks where the stored bottles of wine could be viewed from either side. The rear side, even though, looking the same as the front gate, the rear gate was non-functional. What added to the unique value of these decorative gates was that the vertical square rods were twisted and the round rods which added security to the gate, represented a grape vine with leaves and clumps of grapes.
Handrails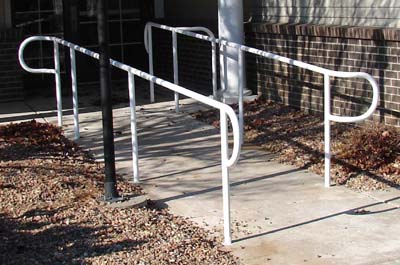 Typically, when we get a request for handrails, we come out and measure, making note of any slopes, steps, or curbs, or anything else that is relative to the handrail. Also, we have pipe bending equipment so most times we try to incorporate all the bends in the same section of handrail when possible. However, sometimes we weld in the 90 degree elbows if a sharp bend in required. We can provide painting or powder coating when requested. Again, estimates are always free.
Steel Structure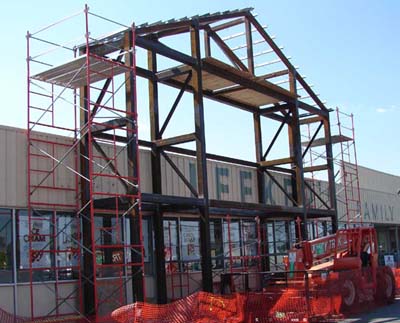 This structure was built in our facility and when completed was delivered out to the jobsite where it was assembled.
Prototype Emergency Warning System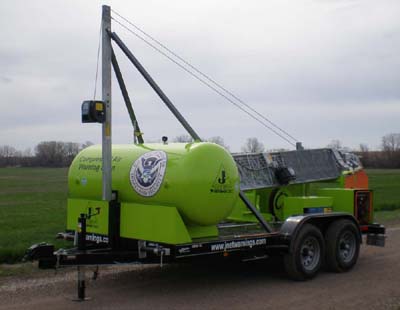 This is a prototype of a mobile emergency warning system. This unit can be easily setup on location and ready for use when the need arises.
Agricultural Cattle Feeder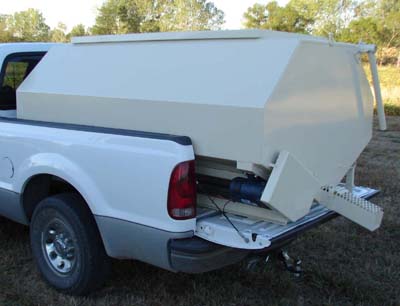 This feeder bin is piece of agricultural equipment, which is portable and when needed, can be loaded in the bed of a pickup and used to discharge feed for cattle. This unit is electric powered, using the battery power source of the pickup to operate the discharge auger.
Unusal Steel Table Legs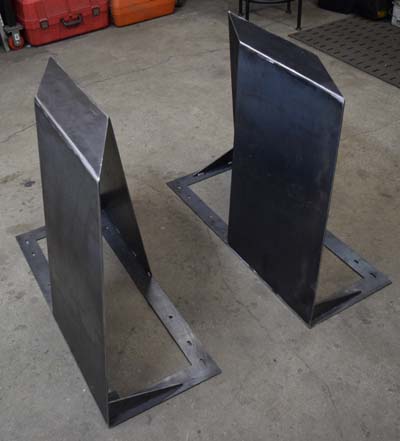 Aluminum Car Hauler Bed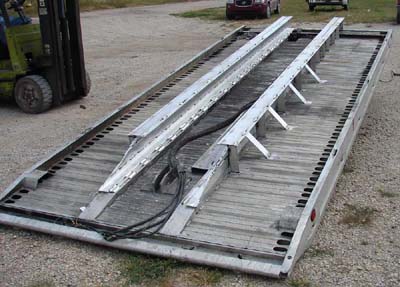 Our history of experience also includes repairing quite a few aluminum car hauler beds. Some repairs would include the main aluminum I-beams, and depending on the severity of the damage, sometimes replacement of the I-beam was a better option to consider. Actually we've had a variety of experience with working on wreckers, anything from repairing fatigue cracks, modifying or adding securement brackets or whatever the need may be.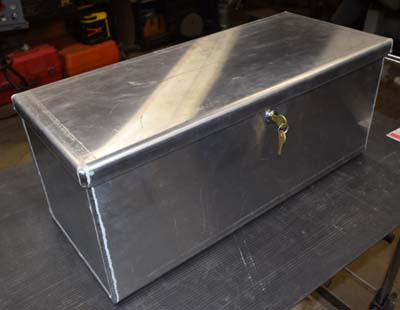 Custom built aluminum storage box.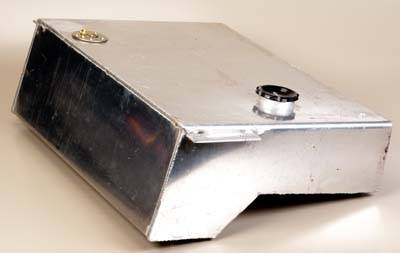 Custom built aluminum fuel tank.
Laser Cut Parts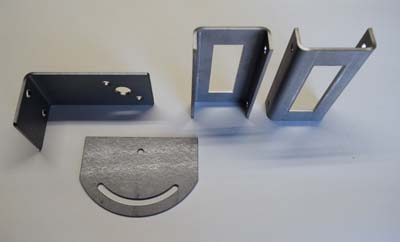 A small display of laser cut parts as per drawing.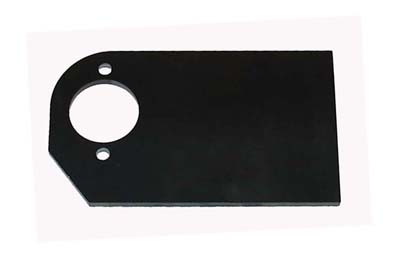 A generic mounting plate for a cnc master cylinder.
Aluminum Awning Frame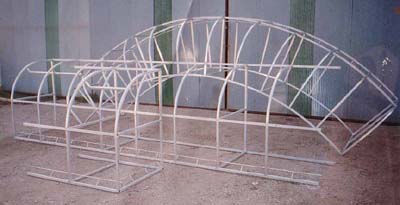 Over the years, we've built many items using aluminum, including awning frames of many different shapes & sizes. Some of the tubing needed to be rolled, or shaped for whatever purpose. In that process, we've built whatever tooling needed to get the job done.

This aluminum awning was built using 1" square aluminum tubing, for the structure of the frame and covered with aluminum sheeting. The company we were contracted to finished the project and provided the painting, graphics and installation.
Caged Ladder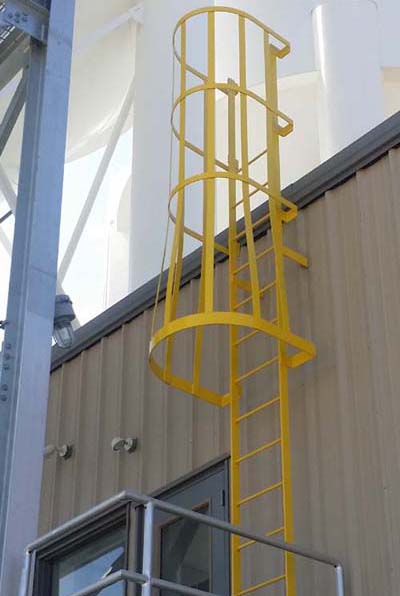 Prototype Industrial Vacuum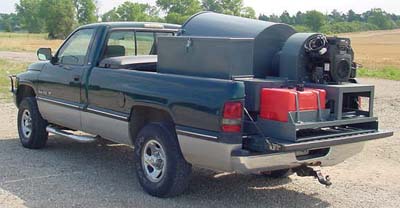 This unit is a commercial vacuum cleaner that we built for a company that was wanting to expand their product line. This unit was indeed impressive in performance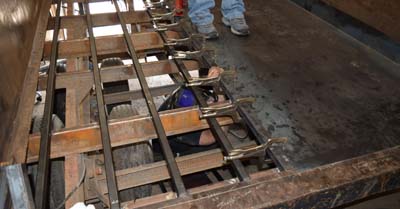 Repairs-Rusted out Metal
Replacing metal flooring and structure in a metal dump bed.
KCE-200/300 Pickup Sprayer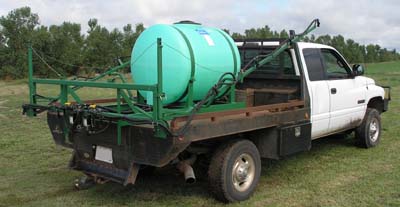 The KCE-200/300 is an affordable slide in pickup sprayer that we've designed and sold for over 20 years.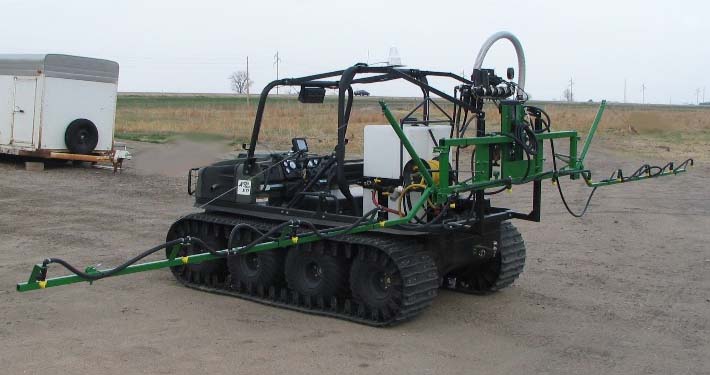 We also sell the boom assembly separately. For more information check out the Product Lines link, located at the right side of the drop down menu bar.